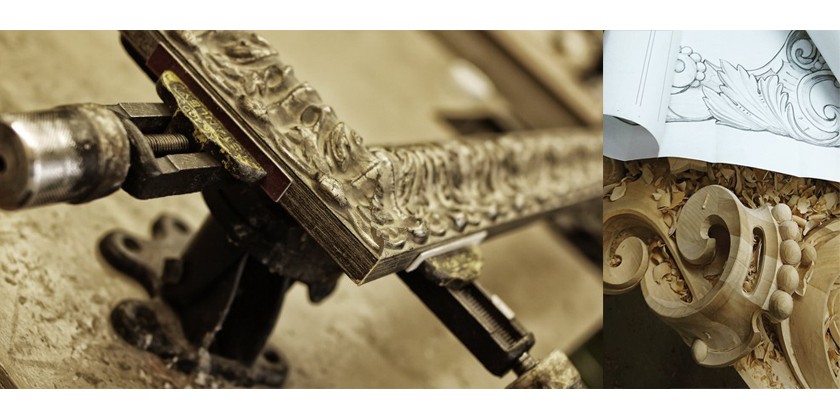 Wood - is a tradional material to create wooden moulding. Even though, this material is more expensive than plastic and aluminum, moulding manufacturers can't substute and remove it from production. Most people believe, that a "true frame" has to be wooden.
Wooden moulding creation
Wooden moulding is produced from solid tree species cherry-tree, oak,walnut-tree, african aios, obeshe (african oak), ramin, red tree. In addition, moulding is created from softer wood species, such as pine-tree, fir-tree, linded-tree.




In order to create moulding, only the best wood is selected. Ideally, wood will not have any knots and dets. Before moulding was made, wood has to dry. Frames, which are made from non-dry wood will crack over time. Some moulding made from specific types of wood, need to receive additional treatment against bugs.
Furthermore, wooden timber of required sizes is created. On top of already cut profile moulding ornament is added on and additional material to create finish with different colours, patterns and other finish. For example, some moulding producers add multiple layers of pasta ( pasta composition is not shared, but it definetely contains (chalk, and mastic,casein glue, wood flour and additional pigments). After that, artificial dust,fretwork made of plaster and after it goes through priming process and receives gold and silver finish foil.
Moulding production is a difficult and time consuming process, which requires handwork and production secrets. Huge factories and family businesses manufacture moulding always tailor and improve the art of this craft. Production process requires designers,artists,artificers and other producers.
At this point, there is a diverse range of wooden moulding, which are presented in different colours pallet, decoractive implementation and styles.Wooden frames can be selected for classic artwork,mirrors,gobelens, tapestry as well as new modern artwork,graphics,posters and photos.
Over the centuries, moulding and frame production technology was evolving, changing and improving. At the ancient times, frames were hand made and only in the middle of 20th century, moulding started to be produced at the factories. Hand made frames are mostly carved frames with ornaments and various images. Process required a lot of effort,determination and required a lot of training of wood carving. These carved frames became especially popular during renaissance times. The most famous, type of carved frames is Sansonino frames. The distinguishing feature of these frames were repeating scrols and volutes. These frames are associated early Barokko and Venetian style.
We are offering huge selection of the wooden moulding. We are distributing moulding from Italy,Spain, Russia, South Korea and other countries.We are always visiting world leading trade shows and we selected only the best,trusted and tested producers of moulding and most interesting collections. In our collection, you will find over 1000 types of moulding.