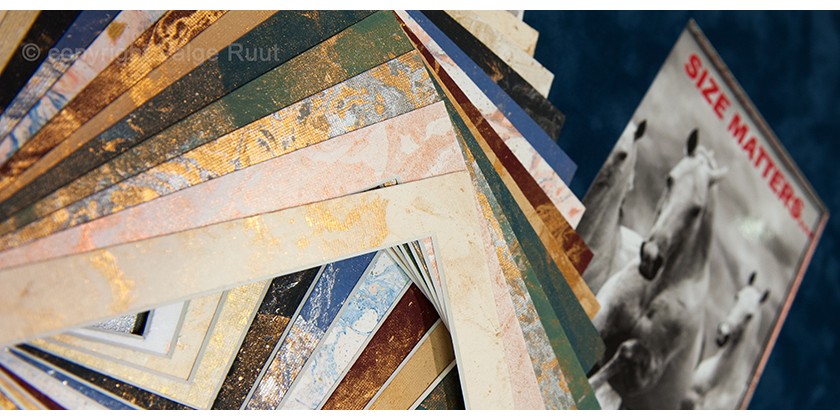 Matboard and its varieties
Matboard plays a vital role in order to frame an artwork. Matboard gives additional colours accents, adds additional space between the frame and picture, improves perception of the artwork and connects artwork and frame into 1 entity.
In our product range, you will find matboard from world leading manufacturers: Caneva, Daler-Rowney, Moorman, Whitecore. You will be able to relevant matboard by manufacturer,budget, colour pallet and texture.
Types of matboard and how you can differentiate matboard
Composition or type of the base:
Standart matboard. Most frequently used matboard, which has the best price. This matboad has high level of acidity. Over time it can change the colour and receive spots. It is not recommended to use this matboard for pieces of art.

Conservated matboard. This matboard has 2 layers and in between it contains natural cotton fibers. Front of the matboard had special treatment,which made this matboard ph-neutral. This matboard prevents fungus and its consistency almost never changes over time.

Museum matboard, which is only made of natural cotton fibers, without any chemical add-ons. Consistency of this matboard doesn't change for many years. It is used to frame pieces of art, museum items and any other valuable items.
By colour:
Colour pallet for matboard is very rich and diverse. If we talk about white colour only, there are more than 15 types of white colour.
By cutoff colour:
Matboard cut can be white or coloured. Matboard with coloured cut is very popular for framing. It is an easy option for creative and artistic effect.
By texture:
Matboard can have paper texture as well as velvet, linnen and silk. There are varieties of matboard, which were created to leather and marble. Thus, there are matboard tectures, which will fit to accomplish any creative objective and framing solutions.
In our product range, you can select matboard of different textures, colours, quality, in order to guarantee framing uniqueness and strengthen creativity of the artwork.